---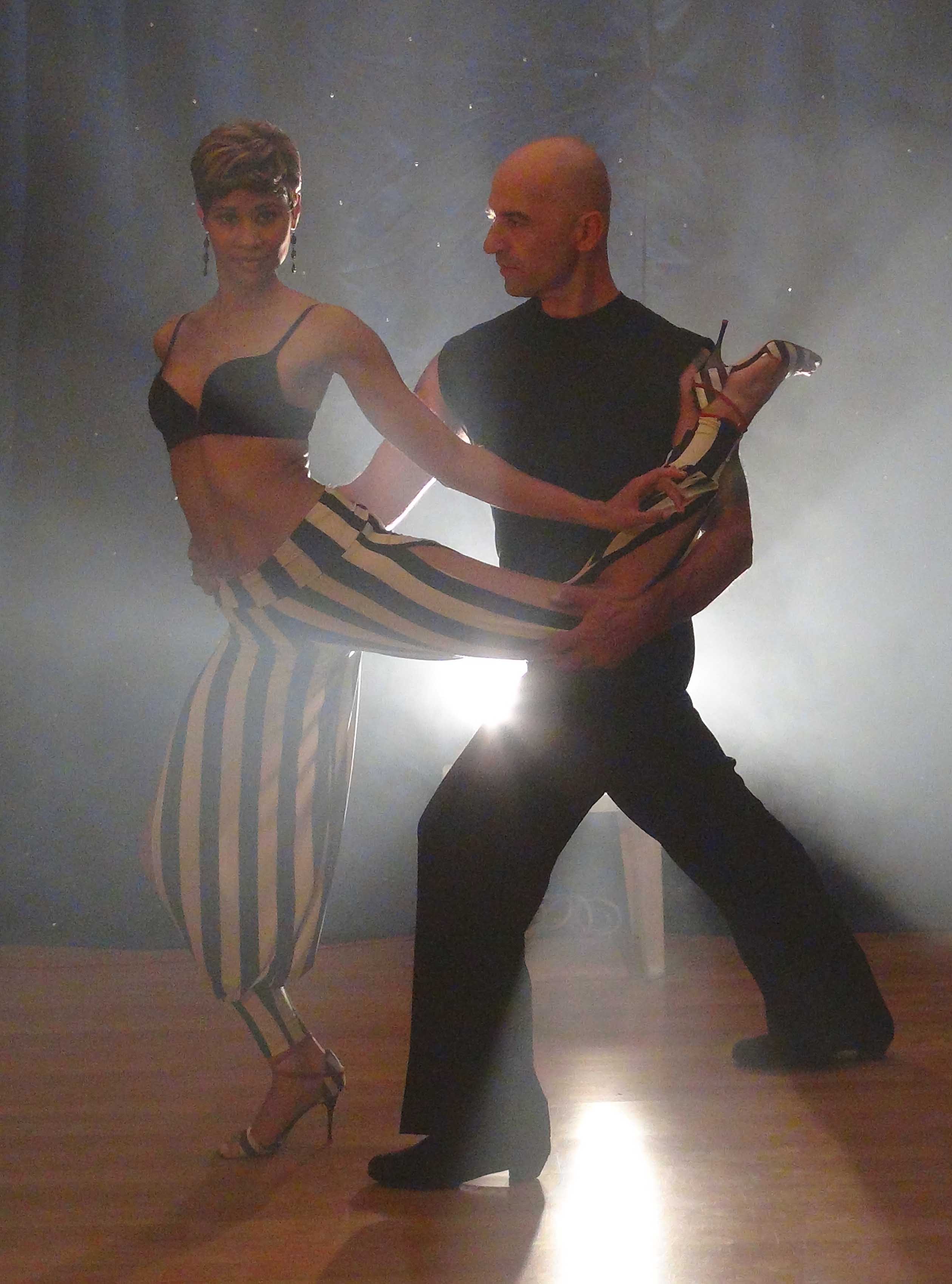 What is Organic Tango And Who are Moti and Ayona?
organic \awr-gan-ik\, of or pertaining to the basic constitution or structure of a thing; constitutional; structural. developing in a manner analogous to the natural growth and evolution characteristic of living organisms; arising as a natural outgrowth.

Organic tango represents a new generation of Argentine tango dancers who strive to push the boundaries of artistic creativity while still holding strong to the fundamentals of traditions. Firmly grounded in the Argentine roots of the dance's conception, it emphasizes the intrinsic concepts of partner connection, leading and following, musical interpretation and the classic tango aesthetic. Organic tango places primary importance on the silent discourse between the man and the woman, who unceasingly communicate through their movements and through the music. It embraces an innovation and experimentation which can be realized only through this constant interplay between leader and follower who share in the responsibility of listening and reacting to each other, to the music, and to other couples sharing the dance floor. Organic tango promotes the dynamism, inventiveness, and originality associated with tango's progressive evolution while simultaneously striving to uphold the dignity of and a respect for the past.

Moti Buchboot & Ayona Weaver

Moti informally started his tango training over twenty years ago when he began to study martial arts. His interest in body movement brought him into contact with a variety of styles ranging from Tai Chi and Capoeira to Krav Maga, Muay Thai, and in the past few years, Kung Fu. This experimentation with physical art forms led him, simultaneously, to dance. He began taking lessons in ballet, African dance, Brazilian street samba, and contact improvisation. But his continued search for his preferred dance style drew him to Argentine tango. A dance he has been teaching for over a decade.
Moti's foray into Argentine tango began with his study of the more traditional, close embrace style of Orlando Paiva and Carlos Gavito. He was then introduced to the teaching of Chicho Frumboli and Fabian Salas. Moti's background in these different tango vocabularies and his mastery of their techniques allowed him to successfully meld these two styles and incorporate them into a style of his own. His dancing style is dynamic, experimental, and innovative. It abounds with creativity and continually evolves to explore new forms of expression, while simultaneously striving to be mindful and respectful of tradition
His experience and body awareness allow him to break down every movement to its bare bones, which helps every student clearly understand and apply the basic concepts underlying the dance. Moti's teaching focuses on the fundamental ideas associated with the tango in a casual, relaxed, and sometimes, even funny atmosphere. He emphasizes core ideas including walking, listening to and hearing the music, creating a dynamic movement, and being socially aware on the dance floor.
Moti has appeared in numerous venues across Los Angeles including the Ford Amphitheater, the Alex Theatre, the J. Paul Getty Museum, and Universal City Walk. He has also lectured and performed at Pasadena City College. Moti has taught across the country in cities such as New York, Albuquerque, Boston, San Diego, Las Vegas, Portland, Seattle, and San Francisco. He has taught internationally in Israel, Australia, New Zealand, and Singapore.
He currently teaches, promotes, performs, and choreographs in Los Angeles.

Ayona

Ayona's experience with partner dancing wasn't until 2011 when she was exposed to Salsa on the streets of Los Angeles. The music, mood, and overall energetic scene was contagious, and soon thereafter she began to explore several other Latin dances including Bachata, Merengue, and Cha-Cha. But it was the mystery, passion, and romance of Argentine Tango that piqued her curiosity and lured her towards this intimate dance.
Wanting to dive deeper and to also expand her overall dance repertoire, Ayona was then introduced to Moti Buchboot, a highly recommended teacher back in the area with open classes for beginners. A master in his own right, and with over 20 years of martial arts training, Moti's ever evolving style of Argentine Tango incorporates a variety of components, including elements of his background in African dance, Brazilian street Samba and ballet, while still respecting the tradition of the dance.
Building on this core idea, Ayona transitioned into Tango naturally, allowing her to apply her modern jazz background, long lines, flexibility and natural grace. These elements alone made her stand out, and under Moti's tutelage she quickly exceled.
Recognizing her potential for growth after a few short months, Moti took her under his wing as his protégé and soon thereafter his dance partner. Together, they work to evoke expression and emotion through dance; constantly pushing the boundaries of creativity and body movement by fusing different dance genres to forge a unique style of their own.
Currently, Ayona trains and assists Moti in teaching in Santa Monica where they have several projects in the works. She also continues to dance Salsa and is working on adding Kizomba to her dance resume.




to contact Moti via email at buchboot@earthlink.net or call him at (310) 625-6501.